The modern day person is exposed to 4,000 – 10,000 ads each day! As a result, many individuals have started a subconscious screening process that filters this clutter out of our conscious consideration. In order to make it past this filter, today's marketers, fundraisers, and advertisers must create relevant marketing appeals that are not only personal but authentic.
In direct mail authenticity starts with the envelope.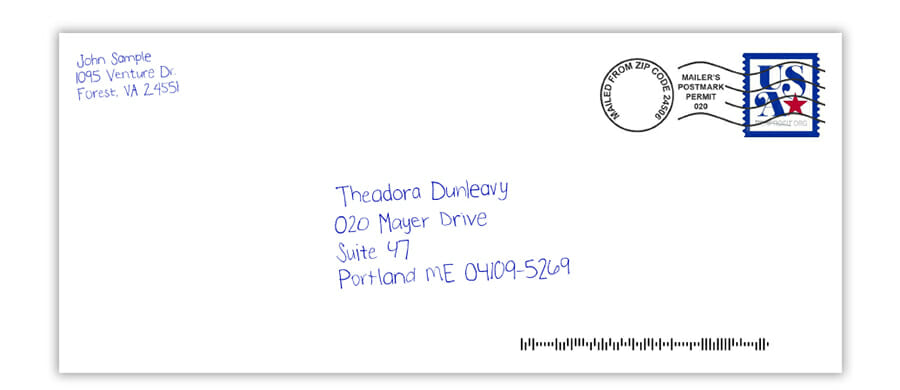 Some of the most authentic experiences are also the simplest. When it comes to the outside of your envelope that means that the best open rates will be achieved by providing a simple, hand addressed envelope with a stamp and cancelation mark (pictured). Despite its simplicity this design was hard, expensive, and slow to reproduce in at-scale applications (10,000+ pieces). Until now.
Request a MyFont Quote:
Pricing as low as $0.005 each!
Many Hand Addressing Options, One Winner
Historically handwriting has been hard to reproduce in at-scale (10,000+ pieces) applications. This is because producing direct mail in bulk requires manufacturing processes that are fast and reliable. Hand addressing envelopes slows that process down and introduces error into the production process. Some direct mailers have tried to solve this problem by creating plotting machines (Often branded under various names including: "Real Pen," "Gen Pen," "Auto Pen") that mechanically move a pen across the envelope/paper, resulting in an authentic looking mail pieces. Unfortunately "Real Pen / Gen Pen / Auto Pen" technology is still prone to a number of manufacturing issues including legibility from pen jittering & ink flow, slow production speed, labor intensiveness, and overall high production costs. While "Real Pen / Gen Pen / Auto Pen" technology reduced error rates, and brought hand addressing costs down from ~$0.50/piece to ~$0.20/piece, the costs and time to produce mail pieces using this method is still outside the scope of at-scale applications (10,000+ pieces). That is where Valtim's "MyFont" comes in….
What is MyFont?
Unlike Real Pen, and other mechanical plotting machines, Valtim MyFont technology uses a combination of computer software and high-quality print production to achieve a similar, and in many ways superior, result.
Developed in partnership with mail equipment manufacturers, ink providers, and IT professionals, MyFont is designed to automate the approach as much as possible while still delivering an end result that appears to be visually crafted by a human hand.
MyFont offers multiple different font styles that provide variations in lettering, just like one might see with a human writer. That means most letters, including vowels and consonants, can have slight differences in the way they appear on the page. For example, MyFont's font styles have four different looks for most lowercase and uppercase letters.

As each envelope is addressed, the specially equipped InkJet head chooses a different version of each letter. The jet head then sprays the lettering onto the envelope with both different kerning and slight variations in letter spacing. Valtim MyFont uses high-resolution print quality, achieved through our close partnership with leading machine manufacturers, to effectively imitate human penmanship. This includes using the same pantone colors used in most ballpoint pens.
The variations in lettering and spacing, combined with high-quality ballpoint ink and innovations in the ink-jetting equipment produce a result that is easily comparable to plotting machines like Real Pen. As Valtim MyFont is both digital and automated, it's also easy to incorporate into the manufacturing and mail insertion process.
Unlike its competitors, Valtim MyFont is scalable and allows for full mail production speeds of around 5,000+ pieces per hour. At that rate, Valtim can produce MyFont costs only ~$0.01 to ~$0.03 cents to produce, or around 90 percent less the cost of using a plotting machine such as Real Pen.
Visually Comparing Valtim MyFont and Real Pen / Gen Pen / Auto Pen
Valtim conducted numerous A/B tests to ensure the effectiveness, quality, and efficiency of MyFont versus plotting machine solutions. Overall, Valtim MyFont provided significantly better ROI and reduced the time to market for mail campaigns versus using plotting machines.
As an example, Valtim performed A/B split test of 14,000 mail pieces for one of our clients. The client outsourced 50% of the job (7,000 pieces) to a Real Pen manufacturer, and allowed Valtim to produce the remaining quantity using our MyFont technology. 
The variables for both tests were conducted across the same audience segment (demographics, economic, propensity, etc.). In both cases, the tested materials were 8.5" x 11" letters that had to be folded into white-wove closed-faced #10 envelopes.
MyFont/Real Pen was applied to the bottom 3.5" panel and was personalized for each mail piece. Each #10 envelope had a pre-sort stamp with a cancellation mark, no return address, and an IMB on the bottom-right corner. Valtim applied MyFont addressing in large lettering to the center where it would normally be located if hand-addressed. Both MyFont and Real Pen-addressed packages were delivered within 3 days of each other.
The result: After 4 weeks the MyFont mail pieces had achieved a 2.7 percent response rate, while the Real Pen mail piece garnered a 2.8 percent response. Responses measured through page capture, calls, emails, and on-site visits.
Valtim has performed other A/B split tests in smaller quantities, all with similar results. MyFont performed on-par with Real Pen in terms of effective response rates, but with a significantly better ROI due to lower manufacturing costs.